It's taken me a little while to really take in all the love and joy that transpired last month on my 60th birthday. The day was definitely a "golden moment" I will replay over and over again. After more than a year of covid fear and aloneness and not seeing or hugging one another, the day was truly magical.
My daughter, niece, and husband teamed up to make it happen. The details were amazing, from the JT themed tables, to my favorite Newport "lobstah rolls" and the hilarious "Name That JT Song" game everyone played, adults and kids alike. Are you catching on to the theme here?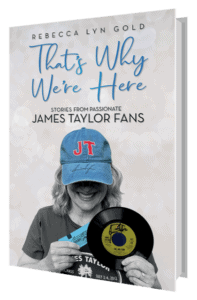 If you've seen my recent Facebook posts, you know that I'm inches away from launching my book "That's Why I'm Here: Stories from Passionate James Taylor Fans." This book has lived in my heart for years, and it's finally come to fruition. Keep an eye out on my Facebook page: "Life With James Taylor" for the official launch sometime mid- August. I'm SO excited about this book and filled with gratitude for the fans all over the world who shared their story in my book.
My JTBFFs.
I also wanted to let you know that I am starting a new Yogic Writing program beginning in September called "Write Here Write Now." I've been itching to create and offer a hybrid 1:1 and group coaching/editing/yogic writing group for the last year or two, and I finally decided the right time was right now! (pun intended) There are only 12 spots available, (and 8 have already been filled) so if you're interested in knowing more about it, just contact me and I'll send you the details. It is a 3-month commitment and includes weekly Yogic Writing practices, feedback, monthly 1:1 coaching calls, and the best part, one story per month professionally edited. If you want to start (or continue) writing your life stories, maybe the time to do it is write here, write now… ?
Ok, I'm getting punchy, so I'm going to call it a night. I really just wanted to pop in and say Hello! And to remind you, always, to shower the people you love with love.
Let it rain ~
Rebecca