If you love and find joy in baking… do people tell you to open a bakery?
If running is your thing… do you need to run a marathon?
If painting brings you peace, is showing your work in an art gallery mandatory?
     Ummm…NOOO.  
So then why is it that if you love to write, people assume (and maybe you do, too) that you HAVE TO WRITE A BOOK?!
Why is it so hard to say I AM A WRITER, if we haven't written a NYT best seller? Or even if we have no intention of writing a book?
I'm here to tell you that being a writer and writing a book are two completely different things. 
If you write, then you are a writer.
It's as simple as that. 
I like to say:  "We write to heal. We write to reveal. We write to leave our legacy." Note that HEAL and REVEAL have little or nothing to do with writing a book! Writing for the pure act and joy of writing, to heal and reveal who you are at your core, is enough! 
I've been writing since the age of 6 when I first found a beautiful cloth covered diary in my stocking at Christmas. I wrote in that thing nearly every day for an entire year, and then (almost) every year since. 
But the true reason I've spent so many days and years writing was not because I was writing book after book, it was because writing became a spiritual practice for me. Later I added yoga and meditation to the mix, but writing for the sake of writing, to find out what my inner Rebecca has to say, to reveal, to heal, has been the true reason why I continue to put pen to paper. 
So, maybe it's time to let go of the grasp just a little bit on that book that you feel like you NEED to write to be able to call yourself a writer. Maybe it's time to just WRITE for the sake of WRITING and feel how good that feels!
Go bake your best buttercream cupcakes. Go for a jog on the beach. Dip a paintbrush into bright colors on a canvas.  And take out your journal and write… and write… and write…
And when you're done, write these words:
I AM A WRITER.
Have a beautiful weekend, WRITER friend! 
Love,  Rebecca
p.s.  How would you like to spend a day with our community of yogic writers doing what we love… a virtual YOGIC WRITING RETREAT! 
No expectations. No pressure. No one asking: "What book are you writing? What have you published?"  Just time to relax and WRITE!
Maybe you've got a story in mind that you haven't had time to put on paper, or maybe you just want to spend the day to see what writing feels like (I've got lots of juicy prompts ready to inspire you!)  We will move a bit, meditate, breathe and WRITE! Come for all (or part) of the day. 
Sign up by clicking the red button below.  Limited spots available!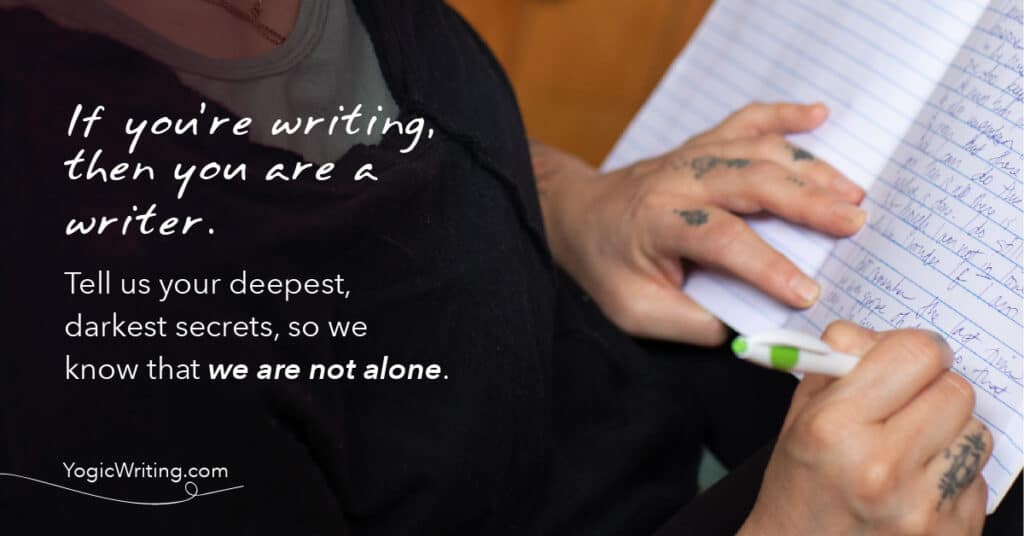 p.p.s. Have you joined my FREE Yogic Writing group on Facebook?